fauxstess with the mauxstess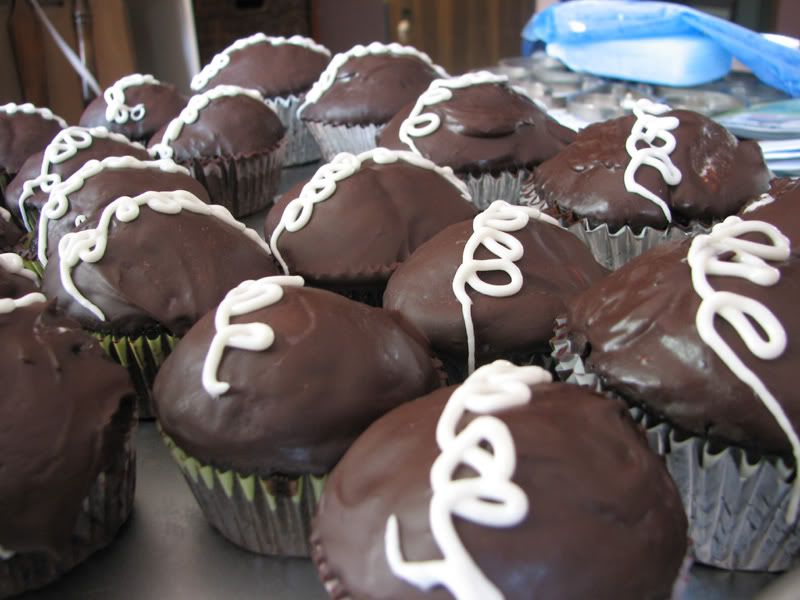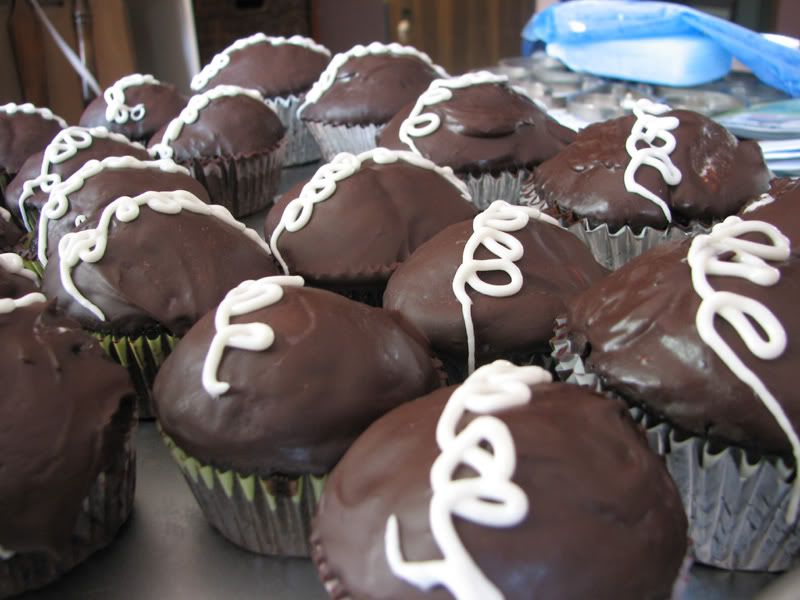 oh my gahd! these are so tasty. the cake seemed slightly too dry, but the combo of cake, filling and ganache was wonderful. maybe i overmixed my batter? maybe next time i won't use a cupcake paper. make it traditional. the filling recipe made enough for 2 batches, and the squiggle recipe makes enough for 4 batches. it was really thick, and my plastic disposable piping bag exploded halfway between piping my squiggles. oops. fixed it with packing tape. good as new. next time, i will packing tape the seams before piping it out, or make it less solid. i kind-of wanted my ganache and filling to be more waxy. maybe that's the traditionalist in me. everyone who had one loved them. my dad was totally like "if i win the lottery, you're getting your own bakery" hehe. :-) my sister said they were better than the originals, and my husband said they were his favorite so-far. (i still like the pumpkin choco chip one the best, but that's probably just because i'm just a pumpkin fiend) my aunt thought i was joking when i said i made them. she thought i got them from a hostess outlet. hehe.
and now for my experiments in transporting the delectable morsels.
i found "shoe boxes" at the dollar store. each shoe box holds 8 regular sized cuppers or 6 large cuppers. and 3 shoe boxes fit in a wholefoods bag with room for freezer packs if you so wish. last time i used my square giant gladware box and my wilton cupcake caddy, i was holding them in my hand while opening an insanely heavy door, and needless to say, the door backfired on me once i was inside, and the cupcakes did acrobatics. :-( this combination of cupcakes in a bag would have been perfect for that situation. the cupcakes wouldn't have batted an eyelash. they'd be like "bring it, door" unfortunately, the lids have a little tab that keeps them from fitting into my 1-bag sized fart cart. i'll check on my 2-bag sized cart shortly and report back. i have faith that it'll fit. anyway, 24 regular-sized cupcakes or 18 large cupcakes wouldn't be too heavy to carry on your shoulder anyway. i guess it's when you get into your 3rd bag of cupcakes (72 regular sized cuppers) that you'd need assistance from a cart.
oh wow! the 2-bag cart is able to fit 10 boxes quite comfortably. (80 regular cuppers or 60 large cuppers.) wonderful! so essentially, i could drag 16 boxes of cupcakes if i ever had to. 10 boxes in the cart and 6 boxes on my shoulders. for a grand total of 128 regular or 96 large. holy guacamole!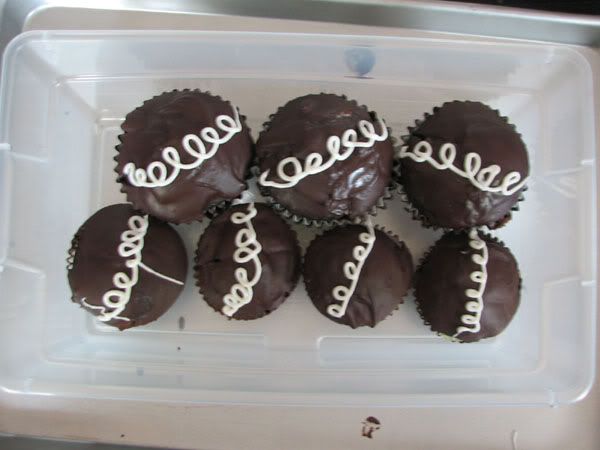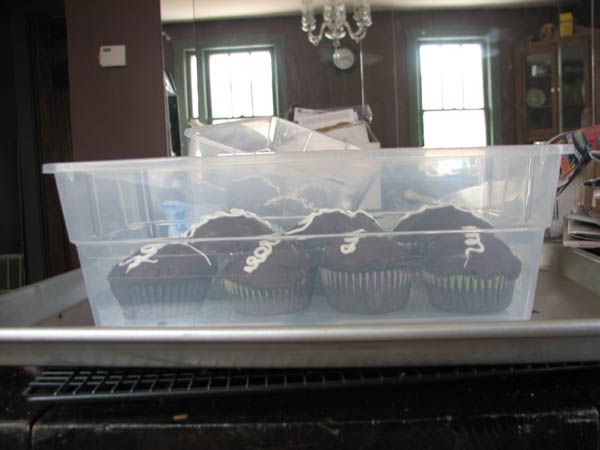 suthrncan, i picked up a kg of the black cocoa for you as well. if you don't want the whole thing, i can happily cut it in half or whatever.
kittee, i didn't forget about you, my 1M tip oddly enough isn't on the wilton website.
but it's one of the closed star tip types.
it's a giant tip, it's got a larger base than the typical tips. i'll take a picture of it for you soon enough.
and finally, for the filling of the fauxstess, i used my filling tip, so i didn't need to poke with my finger. the cupcakes started to expand, and the tops started splitting. maybe i should have smushed some of the innards to make room for more filling?
_________________________________________
the recipe is over at isa's journal.
http://isachandra.livejournal.com/26438.html
it's also in vegan with a vengeance.
the cupcake
1 cup flour
1/4 cup cocoa powder
3 Tablespoons black cocoa powder
1 teaspoon baking powder
1/2 teaspoon baking soda
1/4 teaspoon salt
1 cup plain rice or soymilk
1/4 cup canola oil
1/2 cup maple syrup
1/4 cup sugar
1 teaspoon apple cider vinegar
1 teaspoon vanilla extract
preheat the oven to 350 and line a 12-muffin tin with paper cupcake liners. spray with the liners with canola spray to prevent sticking. sift together the flour, cocoa powders, baking powder, baking soda and salt. in another bowl combine the rice milk, oil, maple syrup, sugar, vinegar and vanilla. beat at medium speed for about two minues. add the dry ingredients to the wet and beat for about another minute to combine. fill each cupcake liner about 2/3 full and bake for about 25-30 minutes. remove from oven and allow to fully cool.
the filling
2 Tablespoons non-hydrogenated margarine
1/4 cup non-hydrogenated shortening
1/4 cup plus 2 Tablespoons superfine (caster) sugar
2 Tablespoons plain, full-fat soymilk powder
1 teaspoon vanilla extract
pinch of salt
in a small bowl beat together the room temperature margarine and shortening until well combined. add the sugar and soymilk powder and beat at high speed for a long time. ten minutes or until the icing is very fluffy. add vanilla extract and a tiny pinch of salt and mix for another minute. set aside.
the ganache
1/3 cup soy or rice milk
4 oz. bittersweet chocolate, chopped
2 T. maple syrup
in a small saucepan bring the soymilk to a boil then lower heat to a simmer. add the chocoate and maple syrup and mix. remove from flame and allow residual heat to fully melt the chocolate. stir to combine. or you can place all ingredients in a microwave safe bowl and melt on high for a minute or two, checking and stirring the mixture every twenty seconds until done.
the squiggles
1 cup confectioners' sugar
1 Tablespoon soymilk powder
1 Tablespoon water
sift the sugar into a bowl and add soymilk powder. add 1 teaspoon of water, then the rest bit by bit until you get a thick consistency, slightly more solid than toothpaste. this stuff has to hold its shape so it should not be drippy in the slightest.
putting it all together
1. poke a hole in the center of each cupcake with your finger, making a little well where the filling will go. place the filling in either a pastry bag, or improvise one by using a ziplock bag with a tiny bit of one edge snipped off. fill the hole until the frosting is level with the top of the cupcake.
2. spread the chocolate ganache over the top of the cupcake, covering the frosting filled hole either by using a cake decorating spatula or dipping the tops of the cupcakes into the bowl of melted ganache. place cupcakes in the fridge for about ten minutes to set.
3. again either using a pastry bag with a little attachment or another ziplock bag with an even tinier bit of the edge snipped off, make the squiggles on the top of the now firm ganache. place in refrigerater again for a few minutes to fully set.
Comments {24}